How Do I Give My Accountant Access To Xero?
Online accounting software is one of the most useful technological solutions in the modern accounting world. It lets you not only have access to your books from any place in the world, but you can also collaborate with others remotely. Online collaboration speeds up accounting and bookkeeping work, thus improving efficiency within your business. It also saves your business money by reducing the need for travel.
How many users can Xero have?
Sometimes you'd like to have more than one person working on your accounting and bookkeeping. It can be different team members responsible for different aspects of your business, for example, purchases and sales. Or maybe accounting and bookkeeping roles in your business are outsourced to two different businesses. The good news is you can have multiple users assigned to one Xero subscription. So, if you give your accountant access to Xero, your bookkeeper can have their access too. This is regardless of the Xero plan you're on.
Giving both your accountant and bookkeeper access to Xero will improve the workflow. There's no need to exchange long emails and ask questions that can be easily answered by looking into what's in Xero. If your bookkeeper prepares all business records for your year-end accounts, your accountant can simply log into Xero once everything is ready and start working on your annual accounts. It also works the other way around; when your accountant needs to make any year-end adjustments, they can easily make them straight in Xero.
P.S. Year-end adjustments don't mean your bookkeeper missed anything or did something wrong. Some things in accounting are just done once a year before final accounts and tax returns submissions and are usually done by an accountant who prepares your accounts and tax returns. These are called yer-end adjustments and they are part of standard year-end work. Your accountant can explain this in more detail.
How Do I Give My Accountant Access To Xero?
Giving your accountant or bookkeeper access to Xero is really easy and quick. What you will need from your accountant or bookkeeper is:
Step-by-step guide on how to add a new user to Xero:
1. Log into Xero
2. Click on your business name in the top left corner and from the drop-down select Settings.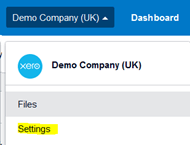 3. Select the section called Users.
4. On the right-hand side at the top, click Invite a user.
5. Enter your accountant's or bookkeeper's first name, last name and email address.
6. Under the section Give them access to select Business and Accounting. If you want to give your accountant or bookkeeper access to other areas of Xero like Payroll or Projects, select these as well.
7. Next, select Adviser tab and make sure you tick all the options.
8. Click Send Invite.
After all the above steps are done, your accountant or bookkeeper will receive an email with the invitation. They will need to accept it. Once that's done, they can start using your Xero straight away.
If you outsource your accounting or bookkeeping services to a business with a bigger team, more people from there may need access to your Xero. If you selected Manage users option when giving your accountant or bookkeeper access to Xero, they will be able to add their team members. Your Accountant in Oxford
Joanna Bookkeeping
The Wheelhouse Angel Court
First Floor, Angel Court
81 St Clements St
Oxford
OX4 1AW